Facility of the Month: Going for Gold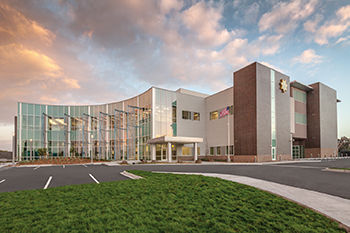 The 257,000-square-foot, $165 million Maple Street Correctional Center (MSCC) in Redwood City, Calif., is a model for corrections with compassion, with sizable space for inmate programs, natural light and ventilation, artwork, top-notch staff amenities and significant sustainability features. Aiming for LEED Gold, the 576-bed facility delivers an innovative approach to how inmates can serve out their sentences while bettering themselves through programs, which could ultimately help to reduce recidivism.
Prior to design, administrators and architects toured jails across the United States to gain insight into their best practices. "The one thing we took away was that many of the jails we visited were very dark and very depressing to inmates and staff operating the jail," said Sam Lin, senior capital project manager at the San Mateo County Sheriff's Office. "We felt their only function was to warehouse the inmates. After the visits, the sheriff and administrators wanted to do something different. They wanted to bring in the life, the different programs and make this very different from the rest of the jails. So that is how we started."
The project moves beyond warehousing and offers a therapeutic, rehabilitative environment that rewards inmates for good behavior with activities including a ping pong table, a large open-air rec yard and program rooms with surround-sound and large-screen TVs. This environment supports the idea that recidivism rates can drop and inmates can begin to regain control of their lives to break the cycle that got them incarcerated in the first place.
"The owner really wanted to embrace the direct supervision model and have a more therapeutic, rehabilitative interior," said Jeff Goodale, national director of justice at HOK and lead planner on MSCC. "It really helps the county to have their day reporting and transitional housing all in one place, it helps the staff get to know the inmates pretty well, and that helps in their rehabilitation process."
The day reporting center known as the Sheriff's Work Program is co-located near the transitional housing units. Seventy-five percent of the cells are multiple-occupancy, eight-person, glass-faced cells. Officials and staff are working at the new facility in conjunction with the nearby downtown Maguire Correctional Facility and place inmates based on classification.
In the new center, each floor has a core station supporting four housing units. Each core station contains a classroom, computer lab and multipurpose room — all of which provide programming space for inmates from different housing units.
"We may have service providers that can only spend two hours a week here, so why not be able to take people from different housing units (as long as they can get along) and bring them to a centralized space to do the programming in there," explained Lt. David Titus, project director with the San Mateo County Sheriff's Office. "So instead of going into a pod, which is typical in county jails, we can actually take inmates off the pod to go to programs."
There are nature-based themes throughout the facility. For instance, the housing units are named Ocean, Bay, Valley and Mountain, and the conference rooms are named Ohlone and Miwok after Native American tribes local to San Mateo County. The transitional housing units are also named after local trees: Aspen, Laurel and Sequoia. In the dayrooms of those units are corresponding enlarged photographs of the actual trees.
"We did not use our typical colors," said Titus. "We used colors that are shown to reduce stress and promote healing."
Each pod is not only colored with comforting hues, but 14 art installations of natural images of the California landscape are placed throughout the administrative wing. "We have a pictures of Muir Woods, Pigeon Point Lighthouse and bright colorful pictures of the California coastal beauty," said Titus.
The facility has a large rooftop-level recreation yard as well. "They need a larger space to take a break," said Lin. "[The rec yard] is more of a sociable context and a big relief from the small, tight cell for long-term inmates and served as a solution for state realignment."
Effective Design
The building is highly effective in terms of space planning. The architect designed a multiple-story, curved-glass façade as the focal point and main entry for visitors and staff.
"We have this expansive wall that we were able to put windows on," explained Goodale. "We really worked the geometry and flipped the cells inside and put big expanses of glass on the outside."
"That's how we were able to get the daylight in," Goodale continued. "You'll be taken aback by how much daylight there is in this facility — into the dayrooms, cell units and administration areas, everywhere. I think it is the most daylighting in a facility that I know of."
The project adopted a lot of new concepts and ideas on its own. "That is why this project is more difficult than usual, just from the shape," said Lin. "It is not a typical square warehousing facility; it is very dynamic in terms of its elevation, space, configuration, introducing natural lighting and meeting energy savings."
Sustainability & Security
The technology embedded is a huge part of the push for LEED Gold. The project employs new technology that is really contemporary, explained Lin. Noting that the entire facility is Wi-Fi deployed for future deployment of any gadgets whether they're going to be used by the inmate 10, 20 years down the road — or so the staff can use an iPad for easy management.
"Because the building is not traditional concrete masonry block, but uses the Trussbilt TrussWall, which is very heavy gage steel, the radio signal or your telephone signal will be dissipated by those steel walls," said Lin. "We installed radio signal or antenna signal amplifiers so that throughout the building you have very good coverage in terms of using the radio, even though it is a steel wall."
As a design-build project, Erie, Colo.-based CML Security worked very closely with the county's Jail Planning Bureau (JPB) on a daily basis to program the security electronics systems to match the operational systems of their facility.
"We worked with them for over a year on how the owner is going to run this facility and took all their operational needs into programming the security electronics systems," said J.J. Ramsey, executive vice president, CML Security. The DEC and SEC package, which also integrates into the system at the Maguire Correctional Facility, cost approximately $23 million.
Mike Rypkema, vice president, operations at CML Security, noted that it was probably one of the most complex TrussWall systems done to date.
FAST FACTS
Owner/Operator: San Mateo County Sheriff's Office
Architect (and landscape architect of record): HOK
Construction Manager: Sundt Layton
Program Manager: Sares Regis Group/Vanir Construction Management
Structural Engineer: SOHA Engineers
Mechanical HVAC Engineer: Frank M. Booth Inc.
Civil Engineer: Telamon Engineering Consultants
Detention Equipment Contractor: CML Security
Security Electronics Designer/Subcontractor: CML Security
For more on this project, read the entire article in May/June issue of Correctional News.