On Location: DLR's Justice Leadership Shares Firm's Focus & Strategy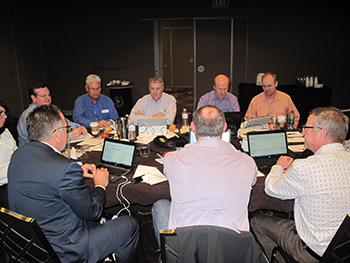 Correctional News' "On Location" section features on-site reporting at annual conferences, facility tours and press trips. Catch up on the last article from the American Correctional Association's (ACA) winter conference below. As we prepare to head to Boston for the ACA summer conference on August 8, another "On Location" article will be made available in the Sept/Oct issue.
During the American Correctional Association's (ACA) 146th Congress of Correction's winter conference from Jan. 22 to 27 in New Orleans, I had the pleasure to sit down with DLR Group's justice leadership team. ACA was an ideal venue to participate in a forum with leading architects and join in on a thought-provoking discussion surrounding the movement and current design trends of the correctional industry. The national firm has offices throughout the country, but many of the top leadership were in attendance at the convention. I was joined by David Boehm, justice + civic global sector leader; Darrell Stelling, California justice leader; Larry Smith, Southwest justice leader; Dan Sandall, national justice business development leader; Martin Berglund, central justice leader; Jake Davis, north central justice leader; Tim Gibson, Southwest justice leader; Ken Jandura, Atlantic Coast leader; and Erica Loynd, Northwest justice architect (Next-Gen Forum member). Also attending the meeting was DLR Group's CEO Griff Davenport who attends group forums a few times a year to discuss the current projects and outlooks for the firm's justice sector. Not in attendance, but part of the leadership team is Bill Valdez, Northwest justice leader.
With each person in the room covering a specific geographical location for the firm, I asked them how it was to work together while being based in different locations across the country. Boehm said that the team gets together in person a few times a year in a similar capacity as the forum I attended and has a monthly phone call with each regional leader to discuss current and future projects and goals. Although the team is spread from the East Coast to the West Coast and everywhere in between, there is a benefit to having seven regional offices.
"If we are working in a certain location we like to say we have a regional presence but a national expertise," said Boehm.
Project Success
The firm currently has several projects underway in California, including the Kern County Justice Center, where they are preparing the bridging documents for the facility, according to Stelling. The firm also recently completed the Kings County Courthouse in Hanford, Calif., which held a ribbon-cutting ceremony on Feb. 9. The $84 million facility seeks to improve efficiency and access by consolidating court services from several overcrowded and obsolete facilities that do not meet current security standards.
Among the firm's standout projects is the South Correctional Entity (SCORE) detention facility in Des Moines, Wash., which serves as an example to other counties looking for a high-quality, sustainable and cost-efficient facility. The 164,000-square-foot facility serves as an 802-bed regional jail for seven Washington cities (Auburn, Burien, Des Moines, Federal Way, Renton, SeaTac and Tukwila). The jail has been an AIA citation winner and is most known for its humane and efficient approach to offender rehabilitation.
Design Philosophy
When it comes to DLR Group's justice team, the group has a specific mindset for how they design correctional facilities. "We look at correctional projects in terms of how we are going to help bring that inmate back into society, so we look at design in a rehabilitative way," Boehm said.
He explained that in the initial design plans the firm meets with the owner and starts a conversation about how the new space can help with reducing recidivism. When it comes to the layout of the building itself, Boehm said that a major way the firm helps to promote recidivism and rehabilitation is by having programmatic components in the design, including treatment areas for inmates with past addictions.
"The programming space is more of an education center — it makes you feel like you're going to school since you are in this learning environment," Loynd explained. "The medical wards are designed so it feels more like a doctor's office. It's all about bringing light, color, texture and sustainability in a physical way to these spaces."
Loynd cited the firm's SCORE facility as a model for what the new "modern" correctional facility can be. "People walk into SCORE, and they feel different there," she said. "It feels good when you are inside the space whether you are an inmate, a correctional officer or a visitor."
An important reality that the firm understands is that the facilities that they design are in constant use and must be able to accommodate a variety of individuals. "Our company's mantra is 'elevate the human experience through design,'" Stelling said. "Inmates and staff are in these buildings seven days a week, 24 hours a day. We really try to make a huge difference in the human experience and how these inmates can get back into a normalized environment as quickly as possible."
Davis added, "We take a holistic approach to the entire justice system."
By designing spaces for change, the firm is constantly challenged and motivated to deliver projects that positively impact the occupants. "It's all about looking at alternatives and addressing spaces for special uses so those incarcerated can get the treatment and help they need," Smith said.
Mental Illness
The firm touched on other areas that they are seeing a particular focus in as well: Designing for mentally ill inmates. With news of facilities providing inadequate care and treatment for mentally ill inmates surfacing recent headlines, the justice designers at DLR Group believe that they can help bring older facilities up-to-date and help new facilities create usable space for the growing number of mentally ill inmates serving sentences.
"2015 was a good start to addressing mental health reform with robust discussions with many organizations, clients and specialists in this area of expertise," said Boehm. "We are recognizing issues within communities and planning for this very real need to serve this underserved population. In 2016, expect to see more beds added and, just as importantly, more support space for programs, assessment and treatment as needed. All the projects we have on the boards now have included discussions with clients on this subject, and most jurisdictions are trying to catch up to this need."
The topic of mental illness and how to treat this class of inmate is a national issue, and nearly everyone in the room had their own experiences working to come up with solutions for facilities.
Based in the Northwest, Loynd explained that many of the facilities designed in Washington were "deemed ineffective" when they were built back in the '80s. "These facilities are doing the best they can with what they have," she said. "They are trying to provide programs that are meant to help people and deal with the mental health crisis that is happening, but these older facilities are completely inadequate, so many have to start from scratch."
Based in the Midwest, Davis explained that he had been involved in a project that required a renovation of an existing facility in order to address the care of mentally ill inmates. "A project in the Chicagoland area came about from a federal lawsuit that alleged there was improper conditions for mentally ill offenders," he explained.
In California, the firm is also working on tackling the issue. Stelling explained the major differences in designing space for these specialized inmates compared to the general population. "[In the mentally ill housing unit], they all have larger sleeping rooms, a lot of natural daylight and program rooms," Stelling said.
He explained that the difference in designing these particular housing units is that all the program space and interview rooms for consultations are all located on a single floor, so there is easy access for the inmates.
No matter the need, however, DLR Group prides itself on designing facilities for the user.
Jandura, who mainly deals with courthouse design, said that the same philosophy is used in the facilities he designs. "I have been involved in justice for over 20 years," he said. "We always look at what we can do to make it a better experience and a better process altogether."
Positive Impact
As problems arise in the justice system, these designers, along with many others, are helping to improve the future for communities around the country by creating spaces for inmates that promote rehabilitation and reintegration back into society. "Architects are problem solvers," said Loynd. "We are not just designing buildings; we are trying to minimize the size of these buildings and looking for alternatives. Oftentimes, we joke that we are working ourselves out of a job, but solving these problems and addressing the bigger issues is what we are so passionate about."
Many of the justice leadership team strives to look at the justice system as a whole when designing facilities. "We work on complicated and complex facilities, but it is so rewarding knowing that we are impacting the whole picture of the justice system," said Berglund.
Davenport explained that, of the eight sectors DLR Group designs for, justice is one of the two that the firm has been involved with for the longest — education being the other — and brings in about 20 percent of the firm's overall revenue.
"We have been doing justice work since the early '70s, so it is something that we are very familiar with," he said. "But at the end of the day, all of the spaces that we design are designed to deal with people. Detention architecture is just a piece of the justice practice."
Gibson explained that although the justice system isn't perfect, DLR Group is continuously working to provide improved spaces for those living, working and interacting in the various sectors of the complex justice field.
During the ACA winter convention in New Orleans, DLR Group's Justice Leadership held a group forum to discuss the current and future goals for the company.
Quick Links
www.aca.org
www.dlrgroup.com