HOK Completes Adams County Jail Design
QUINCY, Ill. — National architecture firm HOK recently completed the design for the new Adams County Jail in Quincy. The 72,000-square-foot project is not only designed to create extra beds to help serve the Adams County Sheriff's Department, but also to improve inmate classification and provide treatment and services that are unavailable at the current facility.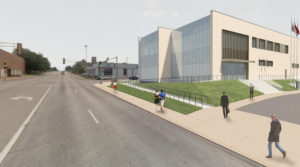 The new, 184-bed jail will include two different types of housing units — four for general population and four for special needs — according to Gregory Cook, AIA, LEED BD+C, CCHP, senior associate, senior project designer for HOK. The special needs units will include six-bed sub dayrooms that provide the sheriff with the ability to better classify the inmate population. Each housing unit will also include covered recreation and programming space, allowing volunteers in the community to safely provide services to the inmate population. In addition to the jail, the new facility will include space for the Adams County Sheriff's Department and the Quincy Police Department, consolidating law enforcement services for the community into a single location.
"HOK worked with the sheriff's leadership team to set the overall goals for the project and to develop the architectural program," Cook said. "The housing units and their configuration are a result of understanding the sheriff's department's staffing availability and security concerns."
The most significant challenge the project team has faced thus far is related to site selection, according to Cook. While many sites in the community were evaluated, members of the community made it clear during the selection process that a project of this magnitude should be located in downtown Quincy adjacent to the existing courthouse. This required the development of a comprehensive master plan for the courthouse property, which included future expansion of the jail and the potential to build a new courthouse in the future without adversely impacting jail functions. To accomplish this, Adams County partnered with the city of Quincy to acquire nearby properties and relocate utilities, while accommodating facilities for the Quincy Police Department.
"As the project begins construction, HOK will continue to work closely with the county and the city of Quincy to make sure that this project continues to meet the expectations of the community regarding budget, the development of a downtown civic campus and public safety in the community," Cook said.
The project's construction budget estimate is about $30.2 million, $1 million over the original estimate, reported the Herald-Whig, a local news outlet; however, the county said a $1.3 million contingency could account for the difference. The project was issued for bids in May, with an expected bid opening later in June.