Preliminary Designs Released for New Will County Judicial Complex
JOLIET, Ill. — Will County, Ill., board members got their first look on May 17 at preliminary designs for the county's new judicial complex, which will be constructed in Joliet. Following design approval, the 10-story project is slated to begin construction in 2018.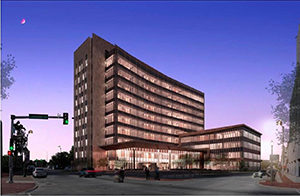 The existing 23-courtroom Will County Courthouse was originally built in 1969 to serve a total county population of 250,000. Since then, that population has swelled to approximately 700,000, and the building no longer meets modern safety and security standards.
In response, Will County selected architecture firm Wight & Company of Chicago, in partnership with national architecture firm HOK to develop designs for a significantly larger judicial complex with a construction budget of $195 million. In March 2016, Will County board members approved the issuance of $275 million in bonds to support the project.
The preliminary designs show that central holding areas as well as mechanical and electrical operations will be located in the basement level, according to The Daily Journal. A spacious, window-filled lobby and larger, more comfortable jury commissioning spaces will be located on the first floor, while the second floor is primarily dedicated to civil small claims courtrooms, criminal misdemeanor courtrooms and circuit clerk offices.
The third floor will house four additional criminal misdemeanor courtrooms as well as adult probation offices, a law library, Will County sheriff's offices and the office of the Will County state's attorney. As the project also aims to improve the quality of work life for employees, the third floor will offer views to a green roof atop the lobby roof. Criminal felony courts, a public defender's office and an office for criminal special proceedings will comprise the fourth floor, according to The Daily Journal.
Additional criminal felony courts will be located above on the fifth floor alongside a café and landscaped terrace for employees and visitors. High-volume family courts, a criminal bench court and two standard family court rooms are spread across floors six and seven. Meanwhile, additional criminal felony courts and criminal bench courts, a civil jury court and a foreclosure court will comprise floors eight and nine. Current designs show that the top floor is slated to house bench and probate courts as well as a grand jury courtroom, administrative spaces and areas for civil special proceedings.
The project was first confirmed in August 2015 and was then estimated to cost $150 million. The county solicited construction management bids for the project in December 2015, and selected the Chicago office of Gilbane Building Co. in March 2016 from a pool of seven applicants. The company has also partnered with Wight & Company and HOK on previous projects.
Wight & Company and HOK completed schematic designs on the Will County Judicial Complex in September 2016. To improve the building's design, the firm also recommended the design undergo a wind test, which was completed in April, according to The Herald News. The test gave designers more details about wind loading, which the Herald News reported would help ensure that design changes not be required in the future. Boundary Layer Wind Tunnel Laboratory of London, Ontario, conducted the wind test.