Facility of the Month: Integrated Design Shapes New Graham County Jail
By Jessie Fetterling
At 80 or so years old, the Graham County jail was the oldest in Arizona. Discussions to replace the outdated facility started approximately 16 years ago, but being situated in a small, rural community meant it was difficult to get the finances to maintain and operate the facility, let alone build a new one.
That finally changed in the November 2014 election when citizens passed a jail district sales tax by just 63 votes in an effort to fund the new 248-bed detention facility, located in Safford, Ariz. The tax began July 1, 2015 and will stay in effect until July 1, 2040.
Even with a limited budget, the about $23 million, 61,968-square-foot Graham County Detention Facility came in more than $600,000 under budget and creates a significantly healthier space for both inmates and the corrections officers who work at the facility. Even more, it's designed to make the best use of taxpayer dollars into the future.
"It is safe to say that our goal will be to focus on operational efficiencies and maintaining the facility in such a manner that our citizens receive the best possible return on their investment," said Graham County Manager Terry Cooper.
National architecture firm DLR Group designed the facility, while Tempe, Ariz.-based Okland Construction completed construction on the project, which started in July 2016 and ended in November 2017. The new facility now features several male and female classifications spread across 120 male dormitory beds, 24 male six-person cell beds, 56 male cell beds, 28 female dormitory beds, 12 female six-person cell beds and eight female cell beds for a total bed count of 248. The facility was also built with additional space to accommodate future expansions capable of housing 120 dormitory-style beds as well as more program space.
"In a small, rural community, the opportunity to construct a detention facility such as ours comes once in a lifetime," Cooper said. "Even though we did our homework and attended the NIC Training for construction of new facilities in Colorado, we relied heavily on our architect, DLR Group. As a leader in the industry, they made us aware of industry trend requirements so that our facility would serve the citizens of Graham County for many years to come."
Going Linear
After touring five detention facilities in Arizona and one in Colorado, the county had a better understanding of what it wanted and was able to develop the basic concept for the facility. Numerous meetings between the county, architect and contractor resulted in a refined design that ensured the county would get the best product possible for the limited resources available, according to Cooper. As such, a linear housing design and efficient space layout for housing, support and administration were key in best using the county construction budget.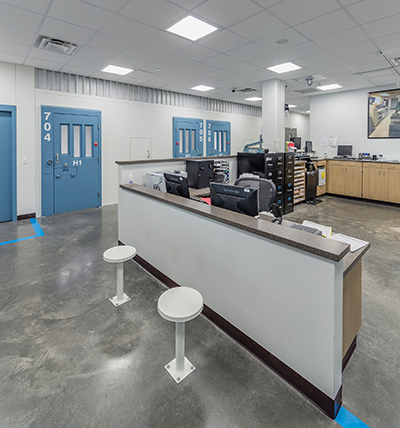 Following the national trend of podular operational housing, the design team created a layout that maximized visual observation from the officer station to the cell fronts using a hybrid of indirect and direct supervision models for operations. But instead of creating the typical pie shape most often seen in podular housing layouts, the design team created housing units with recta-linear geometry.
"This took the benefits of a podular design to help minimize staff posts, but helped simplify construction and created a greater value for construction," said Larry Smith, principal for DLR Group. "It also develops multiple classifications and separations that are needed — about a dozen different classifications. It's very difficult to get all separations for security and gender classifications that are staff efficient, especially for smaller facilities like this one."
The jail's large, central hallway extends the length of the secure jail side, and medical treatment and programming spaces are situated in a central location to housing — all of which helps minimize inmate movement. The facility also includes significantly more space for group areas, programs and recreation that use step programs initiated by the county. Exterior windowless cells help maximize security, while maximized glazing in the cell doors allows for visibility and natural daylighting. The fact that it also houses the sheriff's office served as another benefit to the county's budget.
"The real big issue is that Graham County has a population of about 40,000 people, so trying to provide a self-contained jail and sheriff's office to handle all classifications and genders — not just male and female, but also transgender — for a 248-bed facility can be quite a challenge," Smith said. "These pods are very small in numbers, so staffing can get way out of hand if you approach it similar to a larger county. [This project] was accomplished very well though, and the county is very well pleased with their operations budget. Moving from the old facility to a new facility is a tremendous value that they've received."
An automated, electronic system helps correctional officers oversee the housing units and will have up to 174 surveillance cameras as well as a 120-minute assault door that can be shut at the press of a button in case of an emergency.
Healthcare & Programming
Even though inmates who stay at the Graham County facility are often awaiting a verdict or only ordered for a short stay, the county can now accommodate all their needs.
The creation of the medical clinic was the biggest part of that. The previous facility did not have adequate facilities to provide healthcare, according to Smith, but this one includes a laboratory, pharmacy, lockdown room for contagious disease control and exam rooms as well as opportunities to conduct dental care.
Being such an old facility, the county also didn't have the space for much programming, but now it features classroom facilities to accommodate everything from multidenominational programs and group therapy to GED classes, substance-abuse treatments and even a large enough kitchen that could eventually accommodate culinary programs. The county will start by offering the basic programs now, but hopes to eventually do some specialty programs for parenting and life skills classes, according to Smith. Plus, there are ample recreation facilities available off of each of the pods, so inmates will have a greater degree of access to fitness.
The facility features its own courtroom, where inmates can receive judgment in person from a judge or by video. There are also two attorney visitation rooms for inmates to meet with their attorneys as well as eight stations for public visitations. These can all be done by a video visitation system if need be for maximum-security inmates.
"[We wanted] a safe environment for those being detained," Cooper said. "That included an infirmary that could handle the basic healthcare needs of [detainees] within the facility as opposed to a local hospital. That also included a classroom that could facilitate the educational requirements of our detainees both in person and via use of technology as well as video visitation court appearances, which could be utilized to the fullest extent possible thus requiring less detainee movement and officer attention." 
To read the entire article, check out the March/April issue of Correctional News.